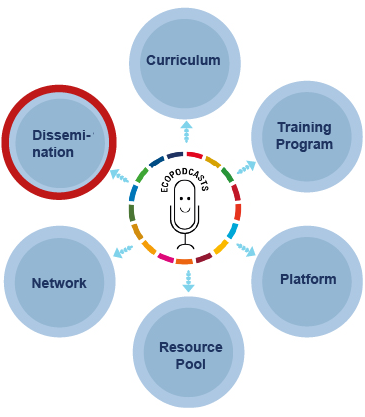 The EcoPodcasts Dissemination will report and promote the results of all the project work packages. The dissemination strategy will be guided by the project partner REACH Innovation.
The project's dissemination plan provides an overview of the main dissemination activities and within the structured timeline. The actual use of project outcomes depends on successful dissemination activities. Therefore, a good dissemination strategy is the basis for successful exploitation of results. EcoPodcasts Dissemination Strategy, to be followed throughout the project lifetime, includes the following core goals:
Outline the target groups that need to be reached.

Define the dissemination channels and tools, as well as the responsibilities of partners and instructions for reporting the dissemination activities.

Promote the project and its outcomes to relevant stakeholders and the general public.

Raise awareness about the specific objectives of the project and how they will be achieved.

Disseminate the project results to relevant stakeholders and decision makers.

Ensure the sustainability of the project results even after the completion of the project.
Outcomes of the EcoPodcasts Communication & Dissemination: All results of the EcoPodcasts Dissemination will be continuously reported in the project website, within Posts & News; as well as in its social media accounts.
The participation of the EcoPodcasts partners in the project's communication and dissemination tasks is fundamental for the successful impact of the project. It will be regularly monitored, in terms of reaches, engagements, followers; as well as qualitatively evaluated after the release of single outcomes (posts; tweets; newsletters; podcasts) with a standard regular interval. Self-evaluation will be continuously carried out to identify gaps or leverage points in the project's dissemination activities.