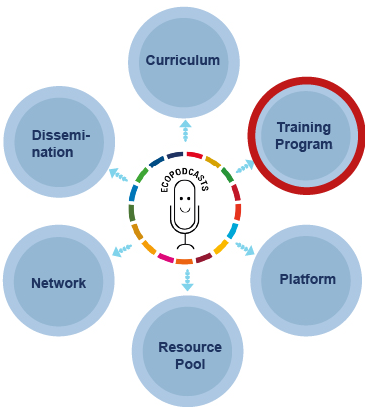 The EcoPodcasts Training Package (PR2)
The EcoPodcasts project is developing a training package aimed at school teachers and any other interested educators who would like to use the possibilities offered by podcasting for educational purposes. The advantages of podcasting in education are many and varied, as it is a flexible learning process, available at any time, to any audience the podcast producer wishes, while a particularly important aspect of podcasts is the attention it attracts since students are much more likely to spend up to 30 minutes listening to something than reading or watching an educational video.
Therefore, the EcoPodcasts project will provide teachers and educators with a guide to integrating podcasting into education, while keeping environmental education as a focus. More specifically, the guide will include both audio and theoretical material. Initially, a collection of interesting educational programs aimed at teachers will be developed to provide training on environmental and climate change issues, so that interested teachers will have a wealth of relevant educational resources at their disposal. Then, as part of the practical part of the guide, instructions for creating podcasts will be developed, as well as techniques related to the creation and production of podcasts, taking inspiration from successful podcast producers around the world. In addition, the theoretical part of the guide will include a wide range of knowledge and techniques for combining environmental education with podcasting, developing green competencies for teachers, as well as interesting and impactful combinations of environmental education with other action-oriented educational practices.